Skin Health: Pre and Post Workout Skin Care
Skin Health: Pre and Post Workout Skin Care
It is just as important to work toward having healthy skin as it is to workout for a healthier lifestyle.
A healthier lifestyle also includes routine maintenance and attention to the care of your skin. A lot of different skin conditions can arise as a result of being active at the gym such as oiliness, redness, and congestion. Sweat, oils, and dirt can clog your pores resulting in breakouts and blackheads.
These pre and post workout skin care tips will help you maintain a healthier, more radiant glow.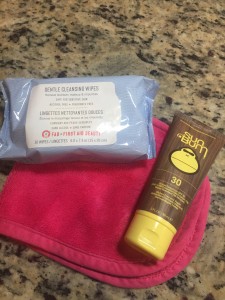 Before you begin your workout regime:
(a) Wash your face to remove any makeup, dirt, or oils from your skin. When you sweat your pores are open, which in return can cause breakouts. A great way to cleanse your skin before a workout would be to carry makeup-removing wipes in your gym bag. If your workout is outdoors, be sure to apply an even layer of sunscreen to protect your skin from UV rays.
(b) Wipe down machines, weights, and mats with antibacterial wipes to avoid the spread of bacteria.
(c) Carry a clean towel to pat away sweat from your skin instead of your hands to avoid spreading bacteria to your skin.
In order to maintain healthy skin after a workout you need to: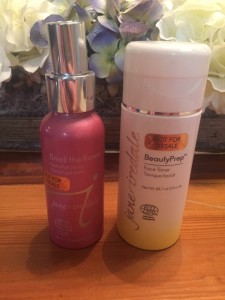 (a) Drink plenty of fluids.
Your skin is your largest organ, thus, it is essential to stay hydrated before, during, and after your workout. Drinking plenty of fluids helps to decrease inflammation and flush out toxins. A lack of water would indicate a lack of sweat which inhibits your ability to ward off breakouts and can lead to much larger problems such as premature aging, decrease in muscle mass, joint pain, and dry eyes.
(b) Wash your hands and cleanse the skin.
A convenient way to cleanse the skin if you can't get to the shower in a timely manner is the use of disposable makeup removing wipes. The best disposable wipes contain tea tree oil and witch hazel, which are natural astringents and help to control skin irritations due to sweat and friction. Be sure to cleanse the face, neck, décolleté, and your back because these are the main areas prone to breakouts
(c) Tone the skin.
When you workout, blood flow increases throughout the body, which results in redness of the skin. The use of a hydration mist containing antiseptic properties and ingredients such as rose water, ylang ylang, and pomegranate will help to calm infla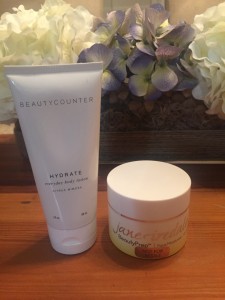 mmation, reduce redness and dryness, and protect the skin.
(d) Hydrate the skin.
Hydrate the skin by applying an even layer of lightweight moisturizer to rehydrate your skin and protect from trans-epidermal water loss.
Before you leave the gym, protect your skin from the elements by applying an even layer of sunscreen of at minimum 15spf (I prefer 30spf), regardless of the season. Don't forget to apply a lip balm to maintain moisture and avoid dry, cracked lips.
(f) Flawless Transition.
To make a flawless transition from the gym to the home or office, use a sheer, weightless mineral makeup foundation free of synthetic chemicals to provide coverage and protect the skin from UV damage.
To make this a little more fun, here is the 'Hump Day Health' segment I did with WWAY TV 3. (Doesn't everyone dislike seeing themselves on camera? I just need to remember not to pick at all my flaws).
http://www.wwaytv3.com/2016/09/07/humpday-health-skin-health/?utm_medium=social&utm_source=facebook_Taylor_Yakowenko