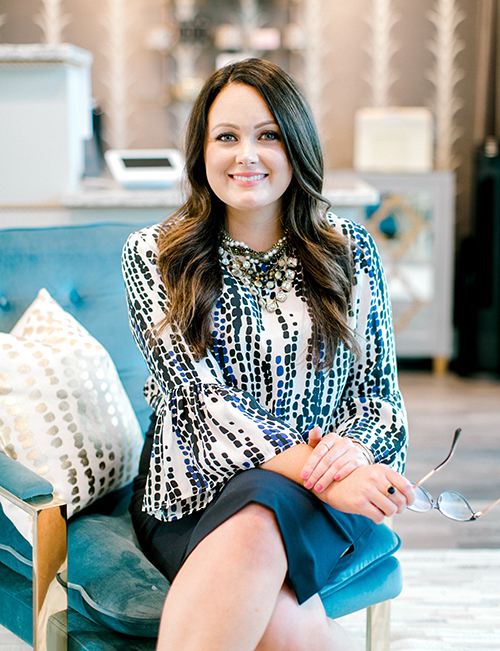 HOLLY HARRISON
Licensed Esthetician, Brow and Wax Expert
Holly is the Founder and Licensed Esthetician at Carter Kayte®. With over 18 years experience in the business arena and almost 10 years experience in the beauty and service industry, Holly's vision was to create an intimate boutique focused entirely on providing a comfortable and enjoyable experience, while making each guest the highest priority.
Her mission is to offer the highest level of customized skin care services, while avoiding pushy sales tactics, and never compromising on the quality of services or products. After expanding, Holly's goal was to create a team-based, enjoyable, and transparent work environment for her team members.
Holly stays at the forefront of the skin care industry by continually educating herself and researching her industry. She takes pride in providing each of our clients with a unique one-on-one experience and customizing each experience to the individual's needs. She lives by the motto from a poem given to her by her Grandfather and Aunt: "be yourself, but be your best self." Her goal is to boost confidence, make more people smile, and help each individual look and feel his or her personal best.
Holly specializes in brow shaping, brow rehab, brow tinting, waxing, lash lifts, and customized skin care treatments. With her expertise in waxing, Carter Kayte quickly became Wilmington's Premier Wax Studio. Recently, Holly has studied under The Master of Manual Face Lifting and The Master of Micro-current and looks forward to bringing you her new venture, @faceathon to Wilmington in the coming months.
In her spare time, Holly enjoys spending time with her loved ones and her two pups: Bella and Oliver. In addition, Holly enjoys traveling, boating, researching, writing, consulting, and interior design.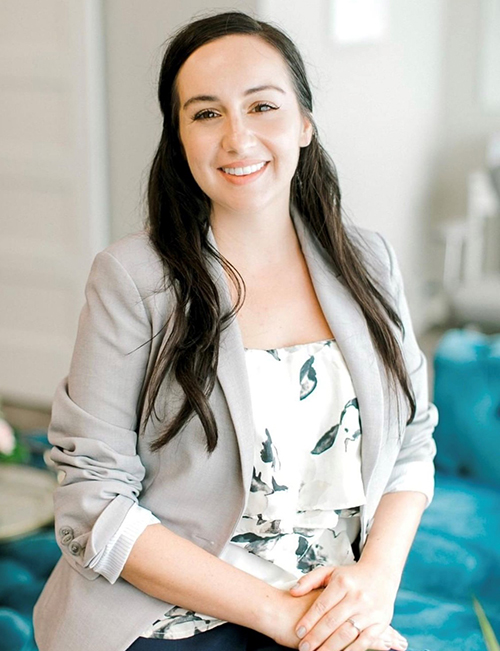 JENNIFER RYAN
Licensed Esthetician, Skin Care Specialist
Jenny is a Licensed Esthetician, Clinical Skin Care Expert, and Wax Specialist. With over 6 years experience, Jenny began her career working for a plastic surgeon and dermatologist before transitioning to Carter Kayte in February of 2018.
She believes customization is key when it comes to a proper skin care regimen, as no two people are the same. Jenny strives to achieve the best results for her clients. Jenny's approach to skin care is results driven. Jenny also sees the need and understands the benefits of a more organic approach.
When she is not at work, you can find Jenny enjoying time with her husband, Dan, her beautiful daughter, Quinn, and two cats: Calypso and Echo. She is an avid outdoor enthusiast and loves camping, hiking, and yoga.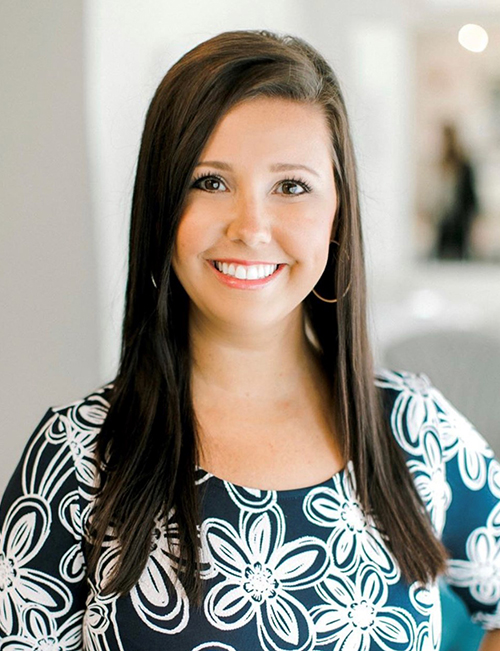 TAMMY PENNINGTON
Director of First Impressions, Laser Teeth Whitening Specialist
Tammy joined Carter Kayte in June 2018 where she quickly showed her love for our clients and was shortly promoted to Director of First Impressions.
As Director of First Impressions, Tammy strives to make sure, no matter what kind of day you are having, when you walk into Carter Kayte, you are greeted with a warm smile and a friendly face.
As a certified dental assistant, she is thrilled to be able to provide clients with our teeth whitening service. Having a great smile herself, she loves providing people with the confidence to smile.
Tammy is from Winterville, NC. She married her husband, Marcus, in June 2009. They have lived in Arizona and Nevada while Marcus pursued a career in aviation and she practiced as a dental assistant. She is now happy to call Wilmington home. She loves spending time with her husband and her Labrador Retrievers: Drake and Cole. ⠀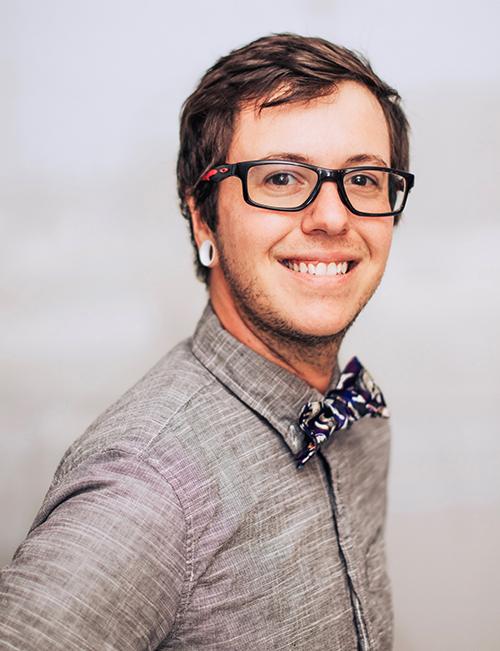 COLTON SCHULTZ
Licensed Massage and Bodywork Therapist Lic# 18137
Colton is a licensed Massage Therapist and a graduate of Miller Motte College. He has lived in Wilmington for 7 years and North Carolina for 23 years. Massage therapy has always been a passion of his since he began receiving massage services in high school to help with his TMJ. He has always had a passion for helping others and feels massage therapy is the best way to facilitate that. In 2017, he became a Level 3 Reiki Master, which further increased his desire to become a Massage Therapist.
In his spare time, Colton enjoys hiking, swimming, reading, and playing with his 2 year old dog, Ollie.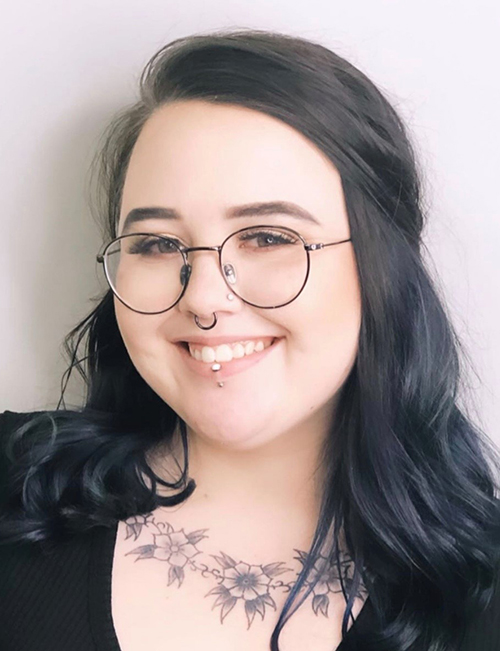 RACHEL GRUPY
Licensed Esthetician, Wax Specialist
Rachel is a Licensed Esthetician, Advanced Wax Specialist, and Makeup Artist from Wrightsville Beach, NC.
She is committed to delivering the highest quality services by focusing on the client's individual needs. Rachel enjoys spending time researching new products and technologies in order to provide the best services possible. She strives to make every client feel beautiful by using ingredient-driven skincare techniques.
In her spare time, Rachel enjoys traveling, going to local shows, and fostering cats.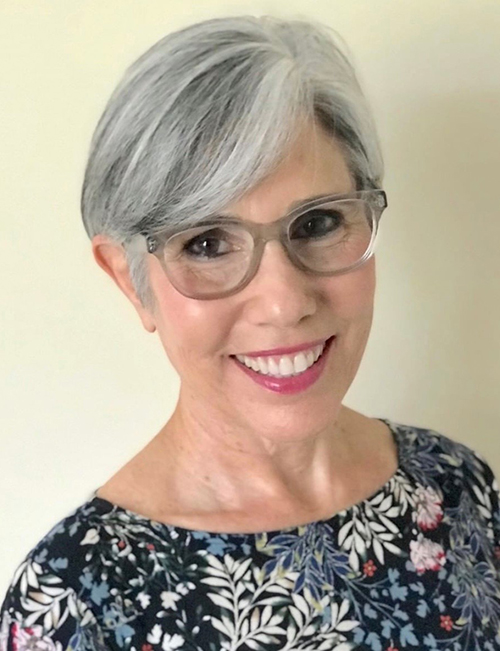 ROBIN SIEGEL
Beauty Makeup Artist, Licensed Cosmetologist
Robin is a Beauty Makeup Artist who recently moved to Wilmington from Los Angeles where she worked for over 30 years with celebrities for the Red Carpet, Advertising Campaigns, Film and Television. She is best known for her Natural Looking Beauty Makeup and her work as Department Head of Makeup for the television show FRIENDS.
As a licensed Cosmetologist, Robin is excited to have a beautiful space at Carter Kayte to offer her Makeup Artistry. Robin loves using makeup to bring your features into focus and reveal the beauty you already are.
In her spare time, Robin loves having time with her wife, Pam, training their two dogs – Jack and Hazel, and practicing yoga at Longwave Yoga.